September 2019: Hidrex Med and IontoCentre (the only UK supplier) are pleased to announce the launch of a series of three brand new enhanced Iontophoresis machines.
New enhanced Iontophoresis machines
Hidrex have been market leading manufacturers across Europe for more than 30 years. IontoCentre have been their UK official supplier since 2011. They have been at the cutting edge of technical advances in iontophoresis machine designs and features. Known for their unrivaled reliability and advanced systems, we are confident they will remain so for the next 30 years.
The new machines replace all existing Hidrex machines including the Hidrex GS400 and the Hidrex PSP1000 and include various improvements and new features. The three new models are:
The ClassicION machine replaces the Hidrex GS400 and goes from the standard direct current only GS400 to a switchable pulsed and direct current option.
This iontophoresis machine also has memory storage points to store your preferred treatment parameters.
Hidrex ConnectION
The ConnectION Iontophoresis machines are the new version of the leading PSP1000 machine which is used extensively in hospitals and clinics across the UK.
The ConnectION devices have three current delivery options, direct, pulsed and variable pulsed current. The unit can automatically alternate polarity to ensure even results and has Bluetooth connectivity so can be controlled via voice and phone controls.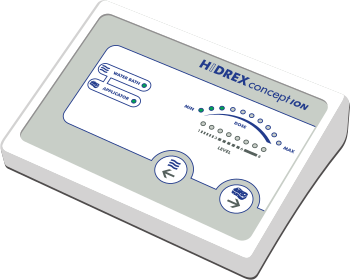 Hidrex ConceptION
The third new unit is a totally new concept in iontophoresis treatments and in in production at the time of writing this blog post. The Hidrex ConceptION will launch later in 2020.